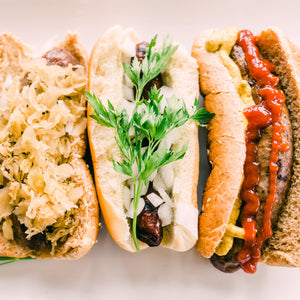 Grass fed & finished 100% beef hotdogs.  We all know hotdogs are usually made with questionable ingredients - not ours!   These hot dogs are a slow smoked, flavorful and convenient.  
Ingredients:
Beef, water, sea salt, honey, ground mustard, ground allspice, black pepper, ground coriander, garlic powder, nutmeg. Stuffed in natural lamb casings. 
As always: 
Antibiotic-free

Hormone-free
Grass fed & finished 
100% USA Wisconsin beef
USDA inspected and labeled
Ranch raised
Individually wrapped and vacuum sealed to preserve freshness 
Shipping

U.S. shipping with any $70/min order (excludes AK & HI).
View shipping map
Local pick-up and drop off 
$50 minimum for on farm pick-up or local drop-off points.