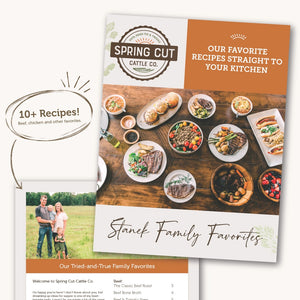 Our family rotates a lot of the same meals over and over, especially beef, chicken, and pork, because, well, we raise it! It is also important to keep pre-packaged, processed foods out of our house, so often our meals are pretty old school - veggies, meat, and a carb. This little booklet gives you a few meal ideas and incorporates a variety of herbs and spices that you may not already be using to enhance your everyday meals. I find it amazing what fresh herbs, not-so-common spices, and some salt can do for a meal. Plus, many of  these recipes are prepared in just one pot or sheet pan - BONUS points for minimal dishes.  
Happy cooking....and savings! We've got a special offer for you at the end of the booklet!
THIS IS A DIGITAL PRODUCT.